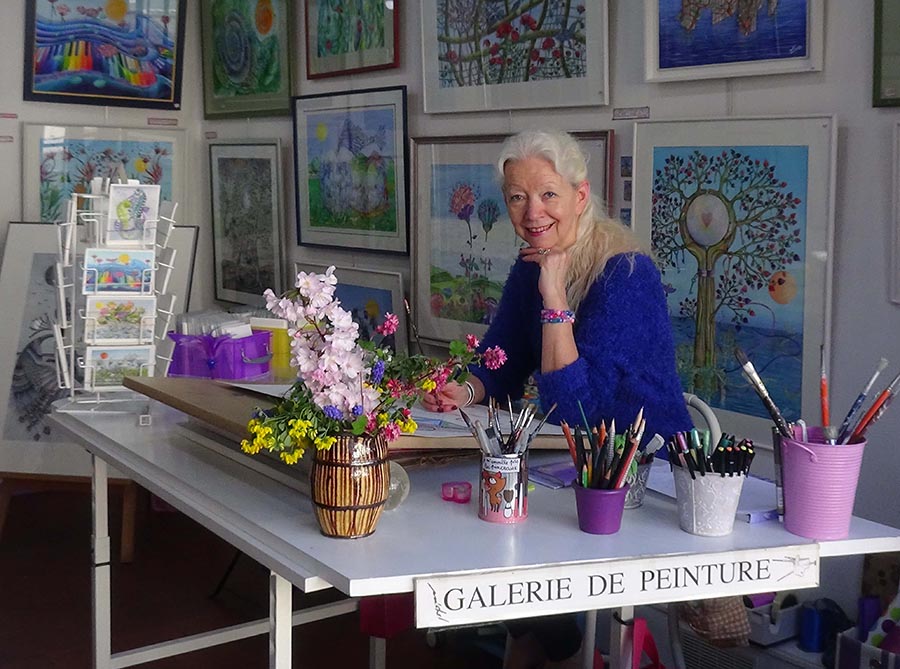 Lia was born in Rouen on a certain 6th November.
Lia's artistic education began at the Rouen School of Fine Arts, where she attended children's classes, then evening classes during her high school years. Later on, she passed the school's entry exam, leading to a five-year full-time course which she thoroughly enjoyed.
At the end of her third year, she obtained the CAFAS diploma (Certificat d'Aptitude à une Formation Artistique Supérieure). She subsequently chose a two-year course specialising in advertising.
Her CAFAS diploma allowed her, after her studies, to be recruited by the French education system and to share her passion with students. She became a qualified teacher of Visual Arts and Applied Arts.
Her career did not prevent her from pursuing painting on a personal level in her home studio. In 1988, she began exhibiting her work in various painting salons alongside other artists. Yet Lia's goal was to one day exhibit her paintings in a Rouen gallery, and alone. What with her job, family and social life, it took her ten years to fulfil her dream. Rouen's Galerie Doré opened its doors to her in 1998. Her work did not leave the observer indifferent and received positive criticism, encouraging her to pursue her atypical artistic creation.
In 2003, Lia's life took a new turn when she decided to put an end to her career as a teacher and devote herself to her passion full-time, despite a very rewarding post at the Lycée Gustave Flaubert in Rouen. One happy chapter closed and another opened, full of promise.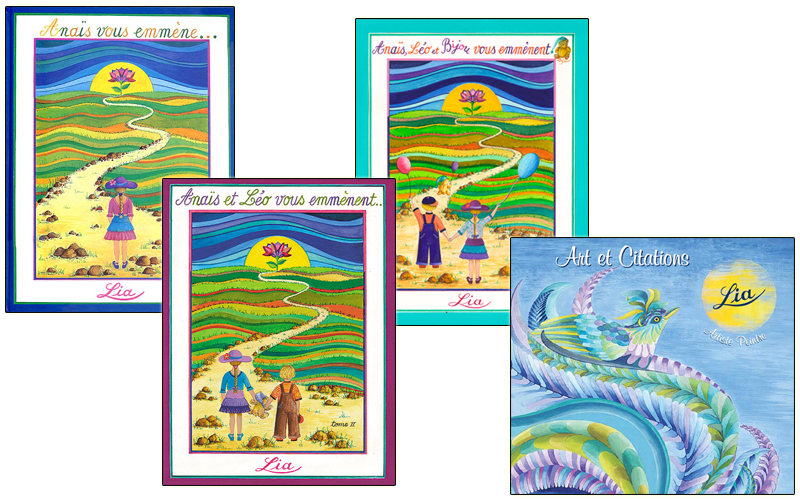 Lia set up her gallery and studio space in La Bouille. She works there year-round and welcomes visitors. The painter has added other strings to her bow, that of illustrator and author, not forgetting a few advertising projects.
She has illustrated and written three books for children and adults:
- in 2004 "Anaïs vous emmène" Volume I
- in 2009 "Anaïs et Léo vous emmènent" Volume II
- in 2012 "Anaïs, Léo et Bijou vous emmènent" Volume III
In terms of painting, a collection that has been 26 years in the making was published in May 2016. It contains 99 paintings and 130 quotations culled from her reading.
Lia has participated in numerous book fayres and various dedication events.
She is listed in publications edited by Editions REGARDS: "Artistes du XVe au XXIe siècle" (2006)
"Art et Poésie" (2012)
and in the magazine "Portraits d'Artistes" (published by Art-Culture-France).
She is a partner of the Rouen Tourist Office.